Quite a few more additions, mixed bag again.
Akai Katana – Finished my SH-3 collection!  Very mint kit came from Yahoo auctions of all places.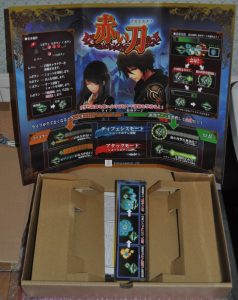 Pushman – single board Korean version, different title screen among other changes, another for the Comad set.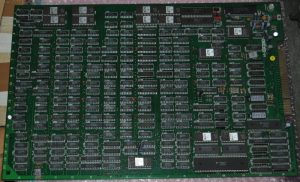 Puckman Pockimon – very odd maze game, arrived with some controls working unreliably, missing resistor array on the inputs, a problem I've seen a few times now on Korean games.
Cool Minigame Collection – Semicom+1, does what it says on the tin and has loads of minigames, some aren't bad and some are totally worthless.
Pollux – a so-so shooter from Dooyong, this is the undumped Japanese NTC license version.
Karian Cross – a Puyo clone with animated characters in the backgrounds.  It was cheap and I was hoping to find an undumped revision, but it wasn't.
Knights Of The Round – one of my favourite games, Japanese revision someone has fitted a battery holder to.  Came with original instruction cards, manual and instruction strip!
Dragon Bowl – this one is amazing.  It's a scrolling beatemup with pretty bad cartoon graphics, but the gameplay is solid.  Reason?  It's a straight up reskin of Ninja Ryukenden (Gaiden).  Every frame of animation is reskinned, even the title sequence animations are reskinned.  Every aspect of the levels and enemy movement/attacks is the same, it's just bootlegged and reskinned.  Turned out to be an undumped unencrypted version.
Crime Fighters 2 – because it was a hole in the collection.  Also known as Vendetta outside of Japan.
Hard Head (bootleg) – bought this because SuNA games mostly have a hated security block with a battery in it, and these are starting to suicide.  This game has a daughterboard with what I believe is the exact same pinout of the block, not had a chance to compare yet.  There's a chance it could be used with decrypted ROMs to run other SuNA games, bringing us closer to a long term solution for the real boards.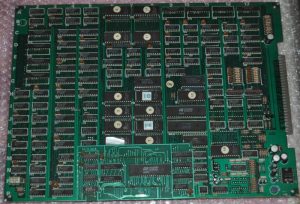 Crime Fighters – criminally underrated scrolling beatemup from Konami with stellar music and raw gameplay.  I bought this because I wanted the Japanese version, then found out one of my existing boards was already a Japanese one…  Don't judge this based on the US ROM set, it's a terrible life counter afflicted mess, censored too.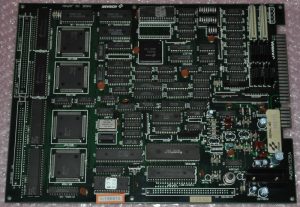 Berlin Wall – pretty crappy Space Panic type game from Kaneko, purchased because it was an undumped Korean version.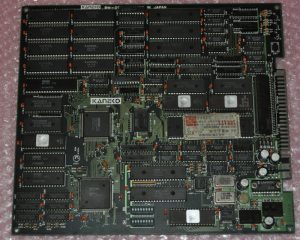 Armed F – seriously hard to find now for unknown reasons, this is one of Nichibutsus last proper games before spinning off into Mahjong obscurity.  Came with original artwork and manual and cost … a lot.
Ark Area – Korean release of this UPL oddity.  I bought this hoping it would be an undumped set but the ROMs are identical to the Japanese version so I'll just be moving it on.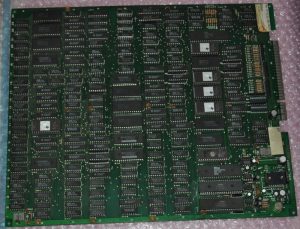 Ambush – quite like Tecfri games for some reason, this is one of their older ones.  Interestingly it also helped answer some questions about the pinout of their older titles, it seems there's actually one common 36 pin pinout and nobody has really made the link before.  A lot of the RAM heatsinks are missing but it's actually the PALs which run hotter than the surface of the sun.