Wasn't going to post PCBs again so soon but I just got hold of something I'm really excited about.  So, in order of rarity…
Dead Connection – feels like a game which was out of time, like it should be much older.  It's a kind of arena based prohibition era shooter with loads and loads of detail in all the scenery and destructable objects.  I'm a sucker for the whole time period.  If there was one place and time I could travel back to, it would be America in the late 30s to early 40s.  Anyway, cool game.
Target Ball – Yun Sung therefore Korean therefore I needed to buy it.  Another pool game with women, except it has possibly the worst ball physics of any of this genre.  It's as if the balls are all made of granite and the table is covered with tar.  The music is also 10-15 second long sample loops.  Wretched.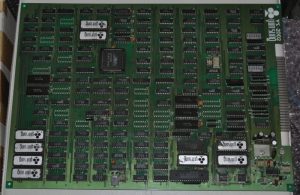 Genpei TournaDen – bizarre and hard to find Namco game with a feudal Japan / demon setting.  It's actually a mishmash of game styles – there's side scrolling and jumping action with small sprites, side scrolling zoomed in fighting in the style of Taito's Gladiator, and some overhead sections a bit like Gauntlet without the maze.  None of the actual gameplay is particularly polished which is unusual for Namco, but I love the theme and audio.
Silver Millennium – and here it is, one of the crown jewels of my collection.  This is an absurdly rare vertical shooter from Korea by Para(dise of amusement).  Apparently the reason for the rarity is that not too many were made, they were sold only in Korea, and they all got converted to Pasha Pasha a year later.  That's all I could find on the subject anyway.  In my years of arcade collecting I've seen two of these in total – one is on ebay recently at a ridiculous $2k, this one was faulty and sold on Yahoo Japan in an open auction.  Even with a graphics error I still had to bid past 100k yen…  It arrived with extra problems not mentioned in the auction which were the result of poor soldering from the factory, the graphics fault was some logic in the background tile layer – fortunately they used functional chip position names which really helped.