Samsung DA-E750 iPod/Galaxy dock
Back in my youth, I was a huge hi-fi nut.  Back then you could go to car boot sales (the UK equivalent of a football field with 100 garage sales happening on it), and come back with really awesome kit.  Some of the mid 70s to mid 80s stuff you could find there was really high end for the time, and you'd pay comparative peanuts for it.  My best friend and myself had hi-fi stacks about 4 feet tall with top end stuff from Pioneer, JVC, Nakamichi, Mission and a host of other names.  We had speaker stacks too, nothing less than 12″ drivers would do – and all this was paid for by buying stuff each week, taking it home and cleaning/servicing/repairing it, then re-selling the stuff we didn't want to keep on our own stall next week.  I don't have the space anymore for anything like that with my other (arcade) interests.  I also live in a house with neighbours next door instead of my parents detached house, so it's not like I'd really have the opportunity to use systems like that anymore.
I have a really nice set of headphones, and a decent MP3/FLAC player, but I've not had a proper way to listen to music without 'phones for a very long time.  Then a few months ago while looking at laptops in PC World while this one was broken I saw it – a lovely rosewood effect unit with twin speakers & a sub in the base, and a pair of glowing valves in the top.  It was making a really good job of playing music in what amounts to a warehouse with bad acoustics too, and I decided I needed one.
I saved up for a bit to get one for Christmas – one of those presents you really want but couldn't seriously expect to receive as a gift, but when I went to buy one … all gone.  Ordered one from an online retailer, suddenly it turned into a January delivery.  Phoned around a few more, out of date stock checks.  PC World had one left in a London store, so I rolled it up with a visit to our office there.  Huge shopping centre called Stratford City, I'd never been there before – pack hiking boots.  Luckily they have a system that can show where your car is when you go to leave, it's a 5000 space park so it did come in handy.  Anyway, after looking really lost in Boots until a pretty girl with way too much makeup took pity on me and helped me find my mothers present, and then queueing for an eternity at PC World I took away my new toy.
When I got it home, I found it must have been a customer return or a display model…  Dirty, cosmetic damage – not really what you want when paying full price.  I took it back that evening to the local store, despite explaining exactly what was wrong with it, they wrote 'unopened return' on the refund slip.  I asked why – "we can't sell it to someone else unless we do".  Er…  Yeah I'm not shopping there again.
Back to the hunt, and I found Selfridges still claimed to have a few left while some stockists actually told me they'd been discontinued – so I placed the order despite the much higher price, and while they couldn't guarantee a pre-Christmas delivery it turned up today.  Brand new.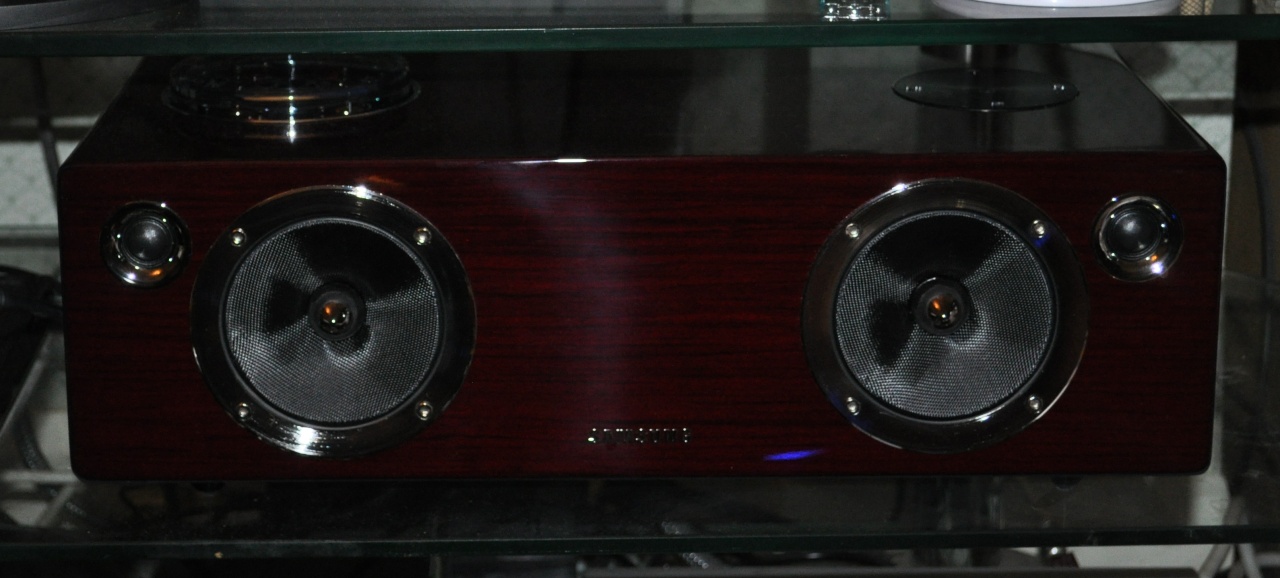 So what is the DA-E750?  It's a pretty lavish iPod / Galaxy dock.  You can dock your phone on a pop-out interface on the back, or you can Bluetooth link it and feed it that way.  You can stream audio to it from Samsung Allshare sources such as some of their TVs and a Windows application that appears not to work.  You can plug USB sticks in the back which results in a bit of a navigation nightmare since there's no display other than source, you can use the aux-in port and feed it audio directly, or use Apple Airplay sources.  It can connect to your network wirelessly or with the network port on the back.
So it's a versatile beast, but honestly a bit akward to use due to the lack of navigation.  The best methods are the direct input or streaming via Airplay, but you'll need either Apple sources or something like Airfoil for Windows to send it audio that way.  Airfoil is quite handy since it can intercept the audio from nearly any application aside from Windows Media Player for some reason, and beam it over.  Bluetooth is also very easy but the sound quality isn't quite as good that way.
But how does it sound?  You're never going to get a full hi-fi experience from a 2 foot wide wooden box, it's just not possible.  Having said that, the sound is very full – ample bass and honestly the bass boost function seems pretty useless, you'd never want to use it.  Great clarity, treble is spot on (I don't like it harsh), and a nice warm colour to it courtesy of the valves.  It really works to strip away the sort of digital clinical sound you get from nearly everything these days, well worth the extra money.  I've tried a good variety of music on it so far, some Winger, Motorhead, Haim, THYX, Nora Jones, but the thing that really sounded amazing was Oxygene by Jean Michel Jarre.  It just sings with material like that.
If you can live with the somewhat limited interface/controls and just care about really great sound from a small box, it's well worth considering and the unit just oozes quality in the looks department.  Funny point though, the valves are actually in the pre-amp section so it's not a pure valve amplifier.  Pre-amp valves don't actually tend to build up a strong glow, so what Samsung have done is stick orange LEDs underneath them….
If there was one improvement I'd make, it would be changing the enclosure shape so the speakers are throwing the sound a little to the left and right – it'd help stereo separation a bit.  As it stands you need to sit back from it a bit to get the proper effect, and nearly dead in the middle.
With this and the PS4 it's turning into a decent Christmas period.