Another roundup of the growing PCB collection!
SD Fighters – Semicom made a fun little vs fighting game here, very hard to find and I suspect I know why – they've used two regulators to generate dedicated 5v feeds for the Lattice chips, but they run really hot and cook the board.  On this example someone has soldered them to the main PCB ground plane to try to distribute heat.  I'll be making a heatsink for this, bad design.
Final Tetris – already had this, but this one is in better condition – just an upgrade although I'll dump the code ROMs from both just in case they're different really.
Magicball Fighting – a baseball game, can't say that I really care for them so I don't know if it's good or not – adding to Semicom collection and it was very cheap 🙂
The Legend Of Silkroad – very ropey looking scrolling beater, but it's actually quite playable and there are more moves than you'd initially expect.  Worth having a quick go in MAME as the PCB is very cheap.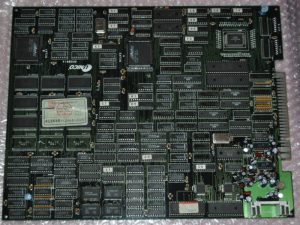 Land Breaker – more Korean games 😉  It's sort of a variant on porno-qix which appears to be a whole industry all on its own.  In this you're free to move around but you fire vertical or horizontal bars to fill the screen up.  Quite odd really.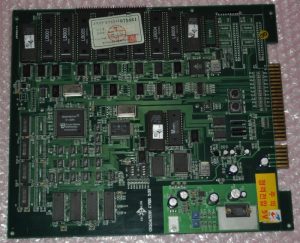 Legionnaire – a Japanese one, got this on ebay sold as untested, had a sound fault due to physical damage of the large SIL item near the amp.  It had been bent and straightened at the pins, but two were broken.  End result was sounding like cap failure, because some of the caps are on that SIL custom.
Gaia Crusaders – unusual side scrolling brawler with heavy use of magic attacks and fairly good sampled music.  It gets a bit repetetive the more you play because many enemies are just re-coloured.
Hexa – it's a game a bit like Puyo Puyo, which reveals women (eventually) the more lines you complete.  I wanted one of these because it's adult and Korean and rubbish – an unholy trinity of qualities.  Really happy to have received it as a Christmas gift from a PCB seller!
Blazeon – cool and rarely talked about horizontal shooter, you can absorb certain enemies after shooting them with a capture shot, and take on their form for a while, music is pretty decent too.
Fantasia – more Comad 🙂  Already had this but the PCB is a slightly different variant (at least one PAL is missing and the model number is newer) and the code ROMs are different.  Not sure why those are the only two missing stickers.  Have dumped it for MAME but couldn't see any obvious differences when testing, they may purely be to support the minor hardware difference.